Over a quarter of all men report they experience episodes of premature ejaculation; I think women would report that number being much higher. Premature ejaculation (PE) is often characterized as a man's inability to control his ejaculation before both partners are satisfied. The time frame is a little difficult to pin down, but most of the surveys I looked at consider it to be about two minutes prior to or after penetration. I would argue the real time frame is more subjective and has to do with the enjoyment of both parties involved. Any release prior to both parties being satisfied feels premature, or if a man is on the edge of ejaculation the whole time he is making love this takes away from his satisfaction as well. Satisfaction is not just about cumming… and not to be too cliche'… it's about the journey as well. Let's not get to caught up on how long a man can last or what the clinical definition is and instead simply look at what the issue is, how it affects the sufferer(s), and what can be done to address the challenge.
PE is difficult for everyone involved. Consider for a moment the reality that there are differences between the sexes… I know there are social justice warriors out there are convinced there are no gender variations… however, the majority of us do understand, sexually speaking, that women and men are very different. Men are capable, when driven by blind lust, to be very self serving sexually, and we forget that it takes longer for a woman, and for many men as well, to be ready for penetration/sexual activity. The Daoists, and pretty much every ancient spiritual system, state a man's strength or drive lies in his sexual energy with his heart needing time to open; for a woman her strength lies in the heart with readiness in her genitals coming around slower. A typical sexual encounter according to Dr. Harry Fisch lasts only 7.3 minutes, with about half of all men finishing within 2 minutes… makes me wonder how this impacts our collective male mojo? Possible causes include: Physical reasons… urethritis, prostatitis, hyperthyroidism, erectile dysfunction, obesity; Psychological reasons… relationship problems, performance anxiety, female partner who has difficulty with orgasm, body image issues, or low self esteem. Regardless of the cause there are many actions a man can take to increase his staying power that have nothing to do with stopping ejaculation or applying a desensitizing cream.
My Tantra teacher once stated that she believed that men ejaculate to quickly because we condition ourselves through our masturbation practice, which started in our teens while sneaking in a session quickly so that we would not be discovered. This is one plausible cause. Personally I have found that often when a man cums to quickly it was because he was over aroused and hyper attuned to his own sensation. So whether the cause is physical, related to our masturbation practice, or hypersensitivity here are some tips which might aid in augmenting this condition.
1. Pelvic floor work- This suggestion I feel every man should do regardless if he suffers from PE or not. Working the muscles along our pelvic floor is extremely important even if for no other reason than you don't want to leave the world the way you came into it… wearing diapers. Working the pelvic floor muscles not only tones the muscles but it also cultivates the nervous system in that area. When we feel fully connected to our pelvic floor we will also feel more comfortable in our own body. The more attuned to our physicality we are the more we are aware of the pressure that ejaculation creates. I do not suggest a man do pelvic floor work during sex in order to stop discharge as this will shift his focus back onto himself, which is the issue as hypersensitivity is the problem in the first place; instead I suggest that he know when he is about to cum and simply pause all the activity once he can sense that pressure becoming to much. How to do the practice: Inhale, contract your anus, then perineum, genitals, then pull in the navel… and as you increase the magnitude of the contraction exhale and hold for about 5 seconds… then relax, inhale and repeat. In yoga this is a very important maneuver and is called mula bandha or root lock.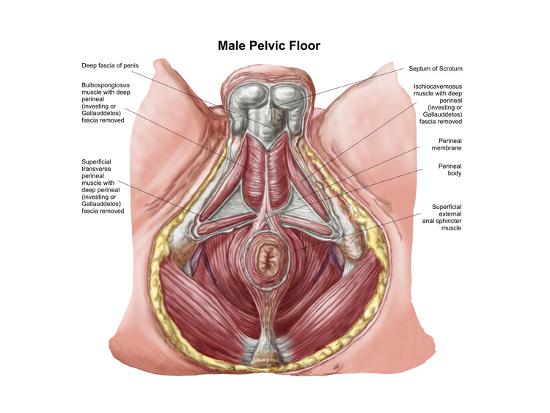 Image from: https://www.art.com/products/p26758313486-sa-i8123283/pelvic-floor-of-human-male.htm
2. Change your approach. Most men approach sex in a hot way. We get all steamed up, anxious to get to it, and once we are inside we get overwhelmed by the intensity and sensation… 7 minutes later sploosh and it's all over. I can almost guarantee that without adequate foreplay she didn't experience much pleasure with this approach and forget about her having an orgasm. If a man is hypersensitive or anxious slowing down and redirecting his focus is the best thing he can do. Focus on her pleasure and keep in mind her whole body needs attention, not just the juicy bits. Try massaging her first, gentle kisses all over, connecting with her through eye contact, breathing together, then move onto the sexier parts, and finally after much time has passed your nervous energy should be dissipated. Your arousal should now be cooled, and she will more likely will be ready for penetration. With this approach even if you only have intercourse for 5 minutes, she will be much more satisfied because she feels connected and her whole body has been touched. This is a fundamental approach one should work on if you are interested in Tantric Sex.
Thank You, Akal